West Hollywood, CA-  The star-studded grand opening party of Planet Dailies and Mixology 101 recently took place at the Original Farmer's Market.  Celebrities in attendance included Jennifer Lopez and her new squeeze Casper Smart, Cee Lo Green, Cat Deeley, Piers Morgan, Arnold Schwarzenegger, Joe Manganiello and Mario Lopez.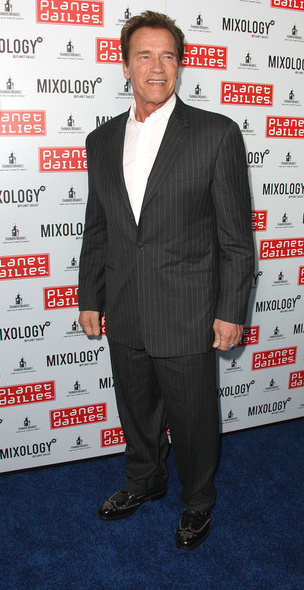 Arnold Schwarzenegger
Guests were treated to free flowing cocktails such as the Velvet Rosa which consisted of Caliche, peach schnapps, cranberry juice, fresh white peach purée and Piper-Heidsieck champagne, the Grace made from Grey Goose Poire, fresh pear purée, apple and lemon juices, honey syrup, and lemongrass and fresh mint and the Sunburn Margarita.  There was no shortage of food with offerings such as Ahi Tuna, Lobster & Crab Cakes, Kobe Sliders, Vegetarian Pizza, Watermelon Feta Bites and desserts galore.
Cat Deeley
Planet Dailies is a welcome addition to the Original Farmer's Market and The Grove, giving diners a more sophisticated and grown up place to imbibe and dine.  There is nothing remotely like Mixology 101 with a menu of 40+ cocktails divided into eight sections: Champagne Cocktails, Classics, Pre-Dinner, Martinis, Short & Sublime, Long & Luscious, Non-Alcoholic.
Jennifer Lopez and Mario Lopez
Carin von Berg
Planet Dailies and Mixology 101
6333 West 3rd Street
Los Angeles, CA 90036