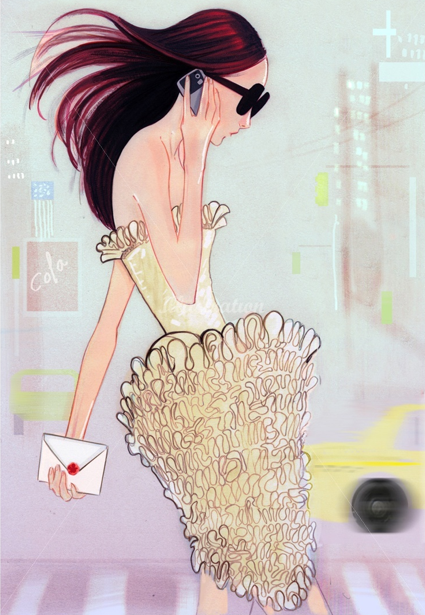 Illustration by Nuno DaCosta
West Hollywood, CA-  On June 12, Blushington Makeup and Beauty Lounge is hosting a cocktail reception to celebrate the launch of lifestyle journalist Carin von Berg's debut novel Gucci Girl.  Invited fashionistas, bloggers and local tastemakers will be treated to makeup application by Blushington's expert team, cocktails by Little Black Dress Vodka and treats from Sweet E's Bakeshop.
click image to buy
Carin von Berg, a former Wilhelmina model,  is a lifestyle writer who was inspired to write the book following a brief stint working for Gucci.  She will be on hand to sign copies of her book which is available in paperback and electronic form on Kindle, Amazon, Createspace and Nook for Barnes and Noble. Below is a brief synopsis of the book:
"Grab your beach towel and sunblock and prepare to take a comical and enthralling journey that transports you from the raunchy playgrounds of South Beach and St. Tropez to the sophisticated romance and beauty of Napa Valley and Paris. Welcome to the world of Valerie Sutherland, former Gucci Girl and future Parisian mistress. After having her heart broken by a charming, young vintner and dealing with one too many of her spoiled clients at Gucci, Valerie decides that it is high-time to exit retail hell. In an attempt to keep up with girlfriends Bianca, a serial bride from Brazil, and Jen, a trust-fund aided socialite, Valerie heads off for the South of France where she experiences wild parties, world-class shopping sprees, luxury yachts and sexy European men. As a kept-woman with no future plans for a career, it isn't until the party ends that Valerie is faced with the dilemma of how to maintain her new found lifestyle on her own. She soon learns that life as a mistress isn't all it's cracked up to be and when a near fashion fiasco threatens Valerie's ability to attend a party, an unknown talent as a fashion designer is unearthed."
Blushington
Fortunately for lucky Angelenos, Blushington CEO and Founder Stephi Maron realized there wasn't a great place in LA to get her makeup done, so she decided to create one that was affordable and convenient. With a savvy background in fashion, PR and marketing, Stephi pulled together a dream team of talented makeup artists and Blushington was born.
For a mere $35, you can look and feel like a star with a full makeup application.  For $25 you can have your eye makeup done by a pro.  In addition to this, you can have brow maintenance, brow and lash tinting, lash application or extensions and airbrushing.  Blushington is also available for private parties for your special ocassion.  For the truly spoiled divas out there (or stay-at-home moms) home visits can be arranged.
Blushington
8591 Sunset Blvd.
West Hollywood, CA  90069